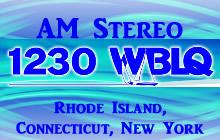 AM 1230 WBLQ
WBLQ's history starts back in the mid 80s. The station has been through several changes of ownership, finally coming under the control of Chris DiPaola. WBLQ is an independent talk radio network out of Westerly RI.

How to Listen:
-TTR syndicates some hosts on WBLQ, to find out who go here.
-Listen on the go using the WBLQ mobile app.