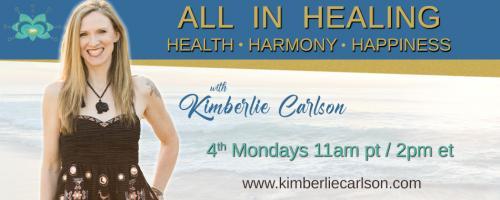 All In Healing with Kimberlie Carlson: Health ~ Harmony ~ Happiness: The Hidden Truth About Your Allergies That You Need to Know
05/25/2020 11:00 am PDT
Encore: Why your allergies are NOT what you think they are and how you can release every last one!
Kimberlie Carlson
ALL IN HEALING with Kimberlie Carlson: Health ~ Harmony ~ Happiness 4th Mondays 11am pt / 2pm et Begin your journey to total healing with All In Healing with Kimberlie...
Find out more »
Dr. Pat Baccili
Dr. Pat Baccili helps individuals and organizations break through their limiting Crust so they can reach their unlimited potential. Her specialty is assisting people face t...
Find out more »