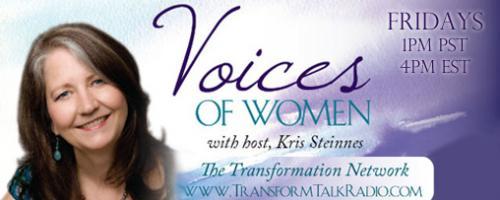 Voices of Women with Host Kris Steinnes: Betsy Thompson, author of Walking Through Illusion
09/02/2011 01:00 pm PDT
Walking though Illusion is a series of short stories about biblical people who either knew Jesus or knew of him, and were influenced by him in one way or another. The concept of walking through illusion refers to the idea that we all come here in our bodies to experience matter, which is temporary, to recognize what is real, which is felt in our hearts.

It is not a book about Christianity; it is about people who lived long before Christianity began. The book makes no attempt to preach religion; the author believes that we dont take our beliefs with us when we leave here; we take the love we found from having them.

WALKING THROUGH ILLUSION assist the reader in creating a happier and more meaningful life through the wisdom of those who hoped to do the same 2000 years ago.

Kris Steinnes
Voices of Women Radio with Kris SteinnesKris Steinnes began her spiritual journey in 1990 when she discovered her mission to bring people together. In 1993 after reading th...
Find out more »
Betsy Thompson
A Philadelphia native with a B.F.A. from the University of Pennsylvania, Betsy Thompson worked as an account executive for several Philadelphia radio stations and as a comme...
Find out more »