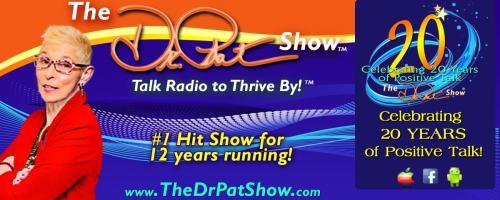 The Dr. Pat Show: Talk Radio to Thrive By!: Past Lives of Atlantis and Lemuria with Special Guest Ameera Beth
06/29/2020 10:00 am PDT
Do you feel that you have had other lifetimes in the lands of Atlantis and Lemuria? These ancient societies are calling us to remember how we once lived in communities that were based on unity, community and the Law of One. What happened in Atlantis and Lemuria that created a society so different than our current reality, and how do we recreate the Sacred Gardens we once called home? Ameera Beth channels the Merpeople of Atlantis and Archangel Metatron to teach us how we are healing the Spirals of Time and raising the Great Kingdom of Atlantis.
Watch live on Facebook. www.facebook.com/transformationtalkradio/
Dr. Pat Baccili
Dr. Pat Baccili helps individuals and organizations break through their limiting Crust so they can reach their unlimited potential. Her specialty is assisting people face t...
Find out more »
Ameera Beth
Ameera Beth is an incarnated Mer Being and Atlantean Priestess. She holds the ancient philosophy, wisdom, and knowledge of The Great Kingdoms of Atlantis and Lemuria in her ...
Find out more »