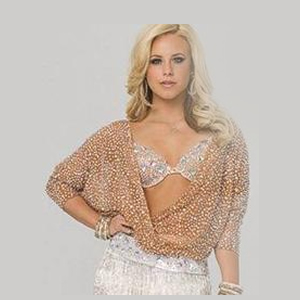 Dancing with the Stars Actress Joins Child-Rescue Effort
Actress Chelsie Hightower, best known for her appearances on "Dancing with the Stars" and "So You Think You Can Dance," has a new role ambassador for Operation Underground Railroad OUR. The non-profit has rescued 67 child and adult sex-slave trafficking victims in overseas sting operations since its creation Jan. 1.

Hightower recently visited 28 children liberated earlier this year from a slave brokerage masquerading as an orphanage in Haiti. She and other members of OUR brought toys and other gifts to the therapeutic shelter where the children are recovering. The experience prompted her to issue a call for donors to fund the next OUR mission.

Theres a case of 15 to 25 girls thats ready to go, she said in announcing her Team Chelsie drive to raise 25,000.


Hightower joins a coalition of about 100 volunteers, many of them the former CIA, U.S. Special Agents, Navy SEALs and Green Berets who conduct the undercover missions. OUR has rescued children in Haiti, Guatemala, Nicaragua and, in May, Colombia.

Having worked with the U.S. government to dismantle human trafficking rings, I became frustrated by what I couldnt do, says CEO Tim Ballard, formerly with the Central Intelligence Agency and the Department of Homeland Security. Our government is largely hindered by bureaucracy and jurisdictional limitations. A nimbler entity that plays by the rules was needed, and thats why OUR exists today.


About Chelsie Hightower-
Chelsie Hightower is a professional dancer and choreographer who was cast on Dancing with the Stars in its eighth season and continued on the popular show for another six seasons, including its first all-stars season. Previously, she was a contestant on So You Think You Can Dance, where she received an Emmy Award nomination and later returned as an all-star and choreographer. She served as ABCs blogger for the 2014 Dancing with the Stars.

About Timothy Ballard
Timothy Ballard is the founder and CEO of Operation Underground Railroad httpwww.ourrescue.org a coalition of former CIA, U.S. Special Agents, Navy SEALs, Green Berets and a number of celebrities who are on a mission to abolish slavery, domestically and abroad. Ballard began his career with the Central Intelligence Agency spent more than a decade working as a Special Agent for the Department of Homeland Security, where he was assigned to the Internet Crimes Against Children Task Force and deployed as an undercover operative for the U.S. Child Sex Tourism Jump Team.